Jose B. Carbajo, Head of AEMA R+D+i Projects, presented on the 16th of February the technological solution LIFE Multi-AD within the MasterClass entitled "Technology MBR for the treatment of urban and industrial wastewater".
Multi-AD technology was shown as an effective and efficient solution for roughing organic matter from wastewater with high loads such as those generated by warehouses. The synergistic coupling of the anaerobic to the aerobic process achieves a significant reduction of the operational costs associated with the purification of these industrial effluents as consequence of the decrease in energy consumption and sludge management.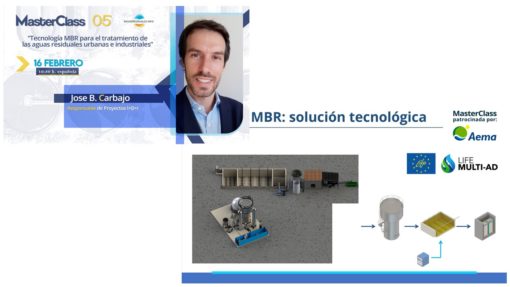 This was the fifth session of the "II Cycle of 20 MasterClass on wastewater treatment urban and industrial areas", an initiative promoted by
aguasresiduales.info
which, for six months, brings together specialists and prominent professionals from public and private companies and universities for an international and multidisciplinary debate on the subject. The MasterClass was followed live by more than 580 participants from the treatment sector of water from Spain, Portugal and Latin America, to which more than 300 delayed viewings.