The Enterprise Agua, Energía y Medioambiente Servicios Integrales S.L.U (AEMA), specialist in treatment and purification of industrial wastewaters, via its Technical Director Luis Carlos Martínez, presented its strategies of innovation for reducing the environmental impact of agri-food SMEs, as well as the exploitation costs derived from the treatment and management of their wastes in the international conference ENOMAQ 2019 that took place in Zaragoza in beginning of March.
During the opening meeting, organised by the Spanish Federation of Wine (FEV) and the Technological Platform of Wine (PTV), Luis Carlos Martínez participated in the round table focused on the resources efficiency as an expert in the efficient use of water. The exposition, which was attended by more than 70 professionals mostly belonging to the winegrowing sector, showed the effort made by AEMA for the integration of systems and equipment that permit to reduce the production of green house gases through the energetical optimisation of treatment plants as well as the practices and technologies installed for reducing the effects of dryness.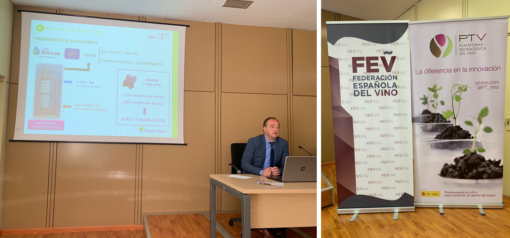 LIFE Multi-AD 4 AgroSMEs Project
The presentation allowed to show the new anaerobic treatment system that AEMA is developing throughout the LIFE Multi-AD 4 AgroSMEs project (LIFE17 ENV/ES/331) collaborating with its partners, Instituto Tecnológico de Aragón (Spain), Energygreen Gas Almazán S.L (Spain), Societatea de Inginerie Sisteme S.A (Romania) and Institutions et Stratégies (France). This innovative technology Will allow to produce high amounts of renewable energy through high quality biogas and it is estimated that it will be capable of reducing by approximately 13% the CO2 produced in a conventional winery's WWTP.