On May 7 took place the second project progression meeting of the LIFE Multi-AD 4 AgroSMEs project (LIFE 17 / ENV / ES 000331) with the participation of every partner of the project (AEMA, I&S, ITAINNOVA, SIS and EGA) in non-face-to-face format by Skype. The actions carried out up to now by each of the parties involved were presented, as well as the progress made in order to establish the following actions and review the correct progress in the work realised.
At this point of the project, it must be noted the development and validation of a mathematical model of the new reactor capable of simulating the hydrodynamics of the three phases (solid, liquid and gaseous). From now on, the objectives are focused on optimizing the dimensions and parameters of the reactor at the industrial level and developing the control system for its automation, 2 of the main results of the project.
The next meeting, which coincides with the first year of life of the project, will take place on the month of September, at the Institutions & Stratégies facilities in Paris (France).
This project is co-financed by the LIFE program of the European Commission.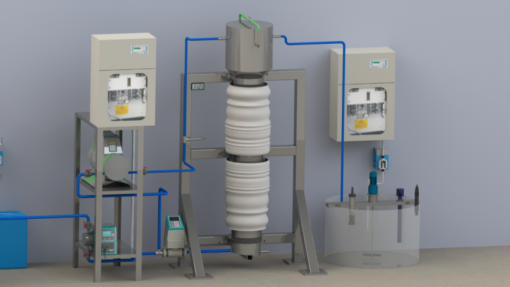 Figure 1. Prototype of the reactor.