THE "AD-WINE" PROJECT, PREDECESSOR OF THE "LIFE Multi-AD 4 AgroSMEs" PROJECT, HAS RECEIVED THE FIRST PRIZE FOR THE INNOVATION OF THE WINE TECHNOLOGICAL PLATFORM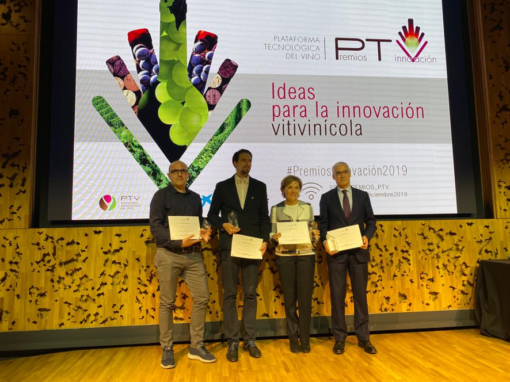 AEMA Group's R&D Director receives recognition.
The European project AD-WINE (FP7-PEOPLE-2011-IAPP-286052), the precursor of our "LIFE Multi-AD 4 AgroSMEs" project, was the winner of the first edition of the Wine Technology Platform Innovation Awards 2019, as the best consortium R&D project applied to the wine sector. The jury recognized the AD-WINE project as the best consortium R&D project for its innovative character and for the advantages and benefits of applying its results to the wine sector. The award was received by the R&D Director of the AEMA Group, Alicia Torres.
The new system, with an innovative multi-stage anaerobic reactor patented by AEMA (ES-2541078), is capable of efficiently treating winery effluents, reducing sludge production and generating biogas for use as renewable energy. The result is a reduction in energy costs, CO2 emissions and plant operating costs, in line with the main European directives on environmental issues.
Our LIFE Multi-AD 4 AgroSMEs project (LIFE17 ENV / ES / 331) has as its main objective the development and implementation of this technology on an industrial scale and this award is a great encouragement to continue the work carried out by the 5 European entities that form the project consortium : Agua Energía y Medio Ambiente Servicio Integrales SLU (project coordinator), Societatea Inginiere Sisteme SA, Instituto Tecnológico de Aragón, Energygreen Gas Almazán SL and Institutions & Stratégies SAS.
The LIFE Multi-AD 4 AgroSMEs project (LIFE17 / ENV / ES 000331) is co-financed by EASME, which was set up by the European Commission to manage support and innovation programs for SMEs, environment, climate action, energy and maritime affairs.