AEMA presents the design of a high-performance multi-phase anaerobic reactor that produces methane-rich biogas, tailored to wastewater treatment of agro-food SMEs.
The R+D+i projects coordinator, Gorka García and the commercial technical engineer, Miguel de Valenzuela, of AEMA's enterprise, participated in the "I cross-border encounter on circular economy in the F&D sector" organised in the ORHI project, presenting its innovative solutions related to the reduction and/or reuse of wastewaters in F&D industries, emphasizing MBR systems as a preferent technology in this fields.
AEMA is the Spanish firm specialized in waters treatment and depuration with a greater number of facilities executed and in management and maintenance, with MBR technology, in Spain and Europe.
The MBR technology presents a series of advantages over the conventional purification processes, among which the ability to reuse treated water without the need for tertiary treatment stands out.
The journey took place in the Chamber of Commerce and Industry of Bayonne Pays Basque (Bayonne, France) on June 18, 2019 with more than 115 participants from the western territory of POCTEFA, specifically, from the Spanish regions of La Rioja, Navarre and the Basque Country and the French regions of Occitanie and Pyrénées-Atlantiques. POCTEFA is a European Territorial Cooperation Program that promotes the sustainable development of the border territory Spain-France-Andorra.
During the event, AEMA presented through bilateral meetings with companies and other official bodies, the new anaerobic treatment system focused on wastewater treatment of F&D SMEs that AEMA is developing through the LIFE Multi-AD 4 AgroSMEs project (LIFE17 ENV / ES / 331) in collaboration with its partners: Instituto Tecnológico de Aragón (Spain), Energygreen Gas Almazán SL (Spain), Societatea de Inginerie Sisteme SA (Romania) and Institutions et Stratégies (France). The forum also allowed the meeting with another project of the LIFE program (LIFE MCUBO) to strengthen ties and seek synergies between the developed technologies.
The main objective of the LIFE Multi-AD 4 AgroSMEs project is the development and industrialization of a fully automated system for the treatment of wastewater generated by small and medium-sized companies in the food sector. This technology is based on the design of a high performance anaerobic multiphase reactor patented by AEMA and its production will be customized according to the specific needs of each client.
In line with the objectives of the ORHI project, the LIFE Multi-AD 4 AgroSMEs project will reduce the environmental impact of SMEs in the agri-food sector and the operating costs derived from the treatment and management of their waste.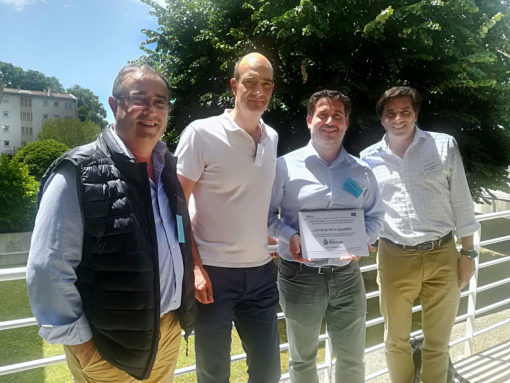 LIFE Multi-AD 4 AgroSMEs and LIFE MCUBO representatives.